Residential Property Solicitors
Whether you are buying or selling your home, we have a team of dedicated property solicitors that can guide you through the process with utmost confidence and professionalism.
At ET Law, our residential property lawyers are there to ensure your transaction runs smoothly so that you can move house the way that you want to. Minimal stress, minimal hassle. Here's how we can help.
Property Conveyancing Services
Based in the Manchester and Warrington areas, we help those looking to buy and sell property across England and Wales. We have a huge team of property conveyancing solicitors supplying expert property conveyancing services at our Manchester and Warrington offices. From ensuring that your paperwork correct to executing vital processes like Transfer of Equity and remortgaging, all our work is done on your behalf to ensure a smooth process.
Our residential property solicitors have been doing this for a long time, and alongside their experience is approachability, clear communication and, above all, expertise.
Residential Conveyancing Solicitors
Our Conveyancing Quality Scheme (CQS) Accreditation assures you of the highest quality standards in residential conveyancing practices. Our property experts will work quickly and efficiently, delivering the highest levels of service for all of your property conveyancing requirements, including:
For a more detailed look into any of ET Law's property conveyancing services above, see our overview of each process by clicking on one of the links.
Moving house with ET Law
Whether you are a first-time buyer, an investor, or you simply need some guidance on areas like buy-to-let schemes or shared ownership, our conveyancing solicitors will demonstrate their wealth of knowledge in a way that's friendly, clear, and helpful.
FOR LATEST OFFERS FROM OUR RESIDENTIAL CONVEYANCING SOLICITORS, CLICK HERE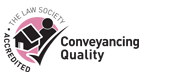 Panel Memberships
We are currently panel members for the following lending institutions:
If you do not see your chosen lender within this list, please contact us so that we can contact your lender to be added to their approved panel.
Aldermore Bank
Alliance & Leicester
Barclays/Woolwich
Bradford & Bingley
Britannia/Co-Operative Bank
C & G
Furness
Halifax
Melton Mowbray
Northern Rock
Santander
Scottish Widows
Skipton
Yorkshire/Barnsley/Chelsea/Accord
If you do not see your chosen lender within the list, please contact us so that we can speak to your lender to be added to their approved panel.
We can also act for you if your lender is one of the following:
Clydesdale
HSBC
Yorkshire Bank